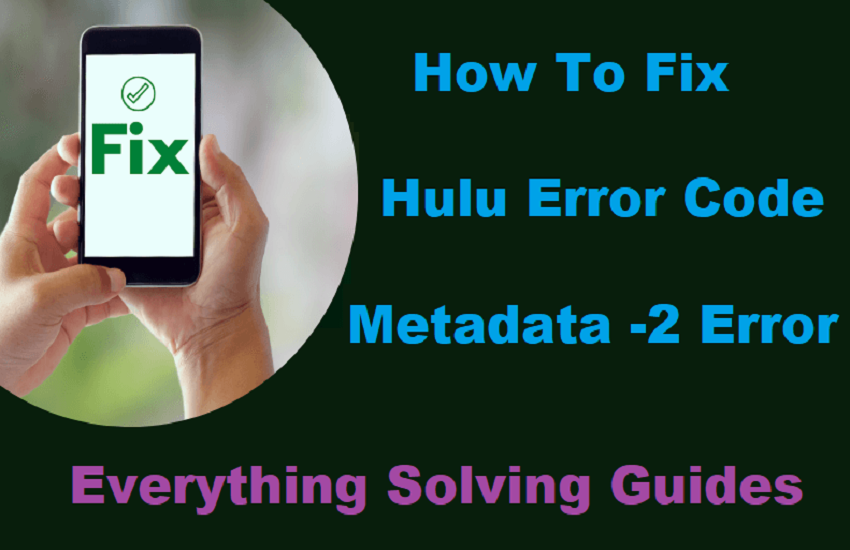 How To Fix Hulu Error Code Metadata -2 Error
What is Hulu?
Hulu is one of the most popular streaming video software at present. It is great for its versatility, ease to use, and other features. With it, anyone can easily stream videos. 
It gives you access to a huge streaming library so you can watch thousands of shows and movies, past seasons, exclusive originals, current episodes, and more on your favorite devices.
But sometimes, people get some common problems while using Hulu, and one of them is like this "Error code: metadata-2-2C4F9F38″ or simply the "metadata -2" error code. 
In this article, initially, I will show why this error happens and then describe how to fix the Hulu error code metadata -2 error, as well as some useful tips that might help you.
Why does this error appear?
This error may appear because of the app's old version, low internet speed, backdated device, and for many other sorts of causes. However, not many people have faced this problem. 
If you face this problem, then don't worry. Because you have come to the right place, and we will try to show you some ways and going through ways, hopefully, you can easily get rid of this error and enjoy your streaming.
7 Effective Methods to fix Hulu Error code Metadata-2
By troubleshooting, you can fix a lot of problems and get rid of this metadata-2 error also. To perform troubleshoot properly, you need to follow these steps:
1. Restart Your Device: 
You may need to turn off the device where you are streaming as well as the router connected to the device. After unplugging, wait for 2 or 3 minutes and again plug-in power. Hopefully, you can find something better. You may need to restart the Roku.
2. Update Hulu App:
An outdated version always causes problems, especially if that is related to an internet connection. So, it would be best if you were up to date or, in short, needed to update to the latest version of that software.
Updating will help you to get rid of some bugs and issues too. Normally, Hulu updates automatically. But some people disable the auto-update system. 
In that case, you need to go to the "menu" then go to "settings," and you will find the update checkbox. Just click, wait for a moment, and you are done. If you don't get the update, then follow the 'Re-installing' step below, and after installing, you will get the latest updated version.
3. High-Speed Internet Connection:
Always a poor internet connection results in such types of problems because streaming videos require high-speed internet. In a research, it has been found that Hulu requires a minimum-
3Mbps to stream 'Hulu streaming library,' 

8Mbps to stream 'Hulu+Live TV' and 

to stream 4K, you need at least 16Mbps, 
These are almost the same as the other streaming apps like Netflix, Amazon TV, Disney+, etc. 
So, in this case, you need to boost up your internet connection. And if you have a high-speed connection but still having this problem, you need to close other online software like browsers, Facebook, etc., because these applications consume much of the internet. If you can, you should check the wires connected to the router because damaged wires supply less speed. 
4. Re-installing Hulu App:
You can fix this issue by simply uninstalling the Hulu software and installing it again.
In IOS Operating System, to uninstall, you need to go to 'Settings' then 'General' then 'Storage' then 'Hulu,' and you will find 'Delete' or 'Uninstall' option. Simply click, and you are done. To install, you know what to do. 
In the Android Operating System, you can press on the app for a bit, and you will get an "uninstall" pop-up, and you can install that. Or, you can go to 'Settings' then 'Apps and data' and then click on 'Hulu,' and you will find the 'Uninstall' option. 
You can clear the data instead of uninstalling it. To do so, in Android Operating System, simply follow the step written above about uninstalling from the settings option but here, all you need to do is to click 'Clear Data.' If you click here, all your application data will be erased, and when you launch the app, you will have the app as if you installed it for the first time. 
In the case of FIreTV, you need to go to 'Settings' then 'Applications' and then 'Manage and uninstall application' then 'Hulu,' and click 'Uninstall' or 'Clear data.' 
5. Clean Cache and Cookies:
Never forget to clean 'Cache' regularly. Since online applications use 'Cache memory' for doing their job properly, it gets accumulated as it is used. It takes a lot of space, and if not cleaned timely, it will even prevent launching any app. 
This Hulu app can accumulate even Gigabyte or more cache memory within a few uses. Moreover, it will slow down the app and even slow down your streaming device. So, try to clean timely cache memory.
6. Try Using VPN:
Another way is the use of VPNs. But you will need to pay for the VPNs. Almost no free VPNs can work here. Paid VPNs will allow you to change your IP address. Many paid VPNs will allow you to use American IP addresses, and many will directly allow you to use Hulu since it is one of the leading video streaming apps. Hopefully, you will get rid of this metadata-2 error. 
7. Update Your Device Itself!
Always remember that Hulu is an ever-updating software like other streaming software like Amazon TV, Netflix, Disney+, etc., and like them, it requires updated devices. 
For example: in Android Operating System, if the android version is below 5.0, then Hulu won't run. It won't run in the IOS Operating System if the iPhone is under 5S. in FireTV, it is like this, you will need an updated version. 
It means the better the device is, with the better compatibility Hulu will run. It is found that the same version of Hulu didn't cause trouble in an updated Android phone where it caused several problems in a backdated Android phone. 
So, if possible, try to update your devices, whether it is Android or iPhone, or something else.