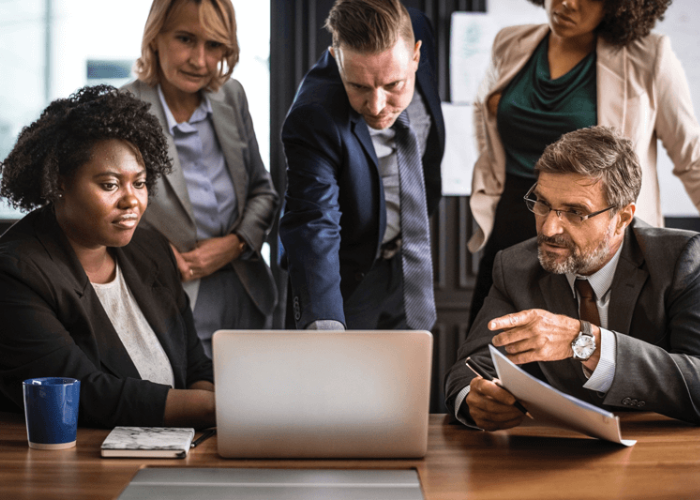 How to Choose an IT Service Provider Correctly
Finding an IT support provider for your small to medium-sized business is a big decision. However, sorting through a seemingly limitless array of options may be overwhelming and time-consuming. Because Lantech has years of experience dealing with clients from a variety of industries, we are aware of the need of providing properly managed IT services.
The Most Important Features to Look for in an IT Support Company
     

Arrangement and Plan

     

Proactive IT assistance

     

Reliable IT Support

     

Reputation

     

Organizational Culture

     

Innovation and flexibility

     

Services at the help desk and on-site assistance

     

Security against cyberattacks is a standard component.
Here is a quick summary of why choosing a managed services provider requires consideration of these factors.
Knowledge of Your Field
An essential factor in choosing a managed service provider is how much expertise they have working with businesses like yours. Reading customer reviews or visiting a company's website are often good places to find out more information about their clients. A great way to avoid numerous issues and make the transition as simple as possible is to work with a managed IT Help Desk services firm with years of experience in your industry.
Arrangement and Plan
Not all managed service providers invest the same amount of time and energy in long-term strategy and planning. On the other hand, a reliable IT service provider will work with your business to create a tailored strategy that best satisfies your needs. For instance, an IT business can help you achieve both your short-term and long-term goals by making targeted investments in new technology or by utilizing cloud services for remote workers. A company that offers IT services will also have upfront pricing to prevent unpleasant surprises.
Proactive IT assistance
You shouldn't have to cope with ongoing issues at work or accept downtime. Quality IT support goes beyond simply fixing an immediate issue since an experienced IT service provider will proactively monitor your network and computer system to find any faults before they become significant problems. Preventive IT maintenance lowers workplace stress while keeping your personnel productive.
Reliable IT Support
Finding a trustworthy IT partner is essential for handling problems as they arise, often before they have an effect on the firm. Ask about their service response time and don't be afraid to ask for a response time report when choosing an IT support provider. The key performance indicators (kpis) of a seasoned managed services provider will be pleased to share them with you. Anyone can claim to be excellent, but the best way to assess a service provider is by talking to their present customers. Don't forget to ask for recommendations. Your company may run continuously by working with a Managed IT Services Toronto who offers round-the-clock monitoring and extended support, such as on holidays.
Reputation
Employing the incorrect IT service provider for your company could have serious repercussions. It is crucial to check references from recent clients to avoid such a disastrous situation. You may determine whether an IT service provider is a suitable fit for you by speaking with these clients, or if you should look into other options. Another excellent way to learn more about a company is to read online reviews about an IT support company. You may learn much more about their reputation in the IT industry from these reviews.
 Organizational Culture
Understanding an IT organization's culture is essential. To ensure a seamless fit for your business, you will constantly work with their IT professionals. By getting in touch with an IT service provider and seeing their staff, you may discover more about company culture. Kind and helpful staff members of a managed service provider are always a positive indicator. On the other hand, it's usually best to go elsewhere if they come off as haughty or condescending.
Innovation and flexibility
Success in the field of technology depends on maintaining your inventiveness. An IT service provider must stay up to date with cutting-edge technology to fully serve your needs. Modern technology can give you a competitive edge while also simplifying the tasks for your team. Any long-term partnership requires understanding the adaptability and ongoing development of a managed service provider.
Services at the help desk and on-site assistance
Some technological problems can't be remotely fixed. Even the most efficient employees might become greatly stressed out by serious situations. An IT expert may be needed to evaluate your infrastructure or perform on-site system testing. You may get the best of both worlds while minimizing downtime by working with an IT provider that offers both help desk and onsite support.
Is cyber security a prerequisite offered?
Cyber attacks have the power to fail even the most prosperous businesses. Hours of downtime are hard to recover from, and it could be expensive. A data breach might undermine your clients' confidence.
Understanding an IT service provider's attitude to cyber security is crucial. Offering top-notch cyber security services involves several different factors, including patch management, employee training, network monitoring, multi-factor authentication, and access to cutting-edge technologies.
Is the IT Partner I Selected the Right One?
A managed IT service provider should often be consulted before making any decisions. A successful collaboration demands an IT supplier who is aware of your unique problems and willing to collaborate with you to meet all of your goals.
Whether creating a new system or addressing maintenance issues, Lantech recognizes the value of responding to your unique demands. Your objectives will be our objectives, and we will always go above and beyond to support the success of your company!